What's that? You totally don't and never want to learn about me?
Well, great, because I'm going to be doing 8736* tags.
Also this is a #first on the blog for me, I haven't posted/answered a tag before on this blog. I've done awards before, but not tags. Woohoo!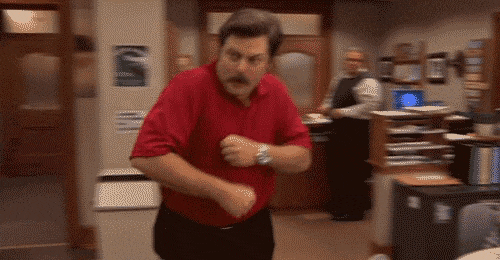 I know, I know, you guys are obviously very excited about this and most likely dancing in your seat. (Also HOW ARE YOU DANCING IN YOUR SEAT SIT DOWN DUDE YOU'LL HURT YOURSELF.)
But anyways, since I've been tagged a bunch of times, I'll just compile a couple of tags into one** post! SMART, RIGHT?? (If you say yes I will feel so validated.)
*Approximate number. Trust me guys, I've taken math classes before.
**And, despite what you may think, haha no this is totally not because it's too much work to have separate posts.
The Tags I'm Doing
The Mid Year Book Freak Out Tag // tagged by Lyndsey
I knowww it's WAY past mid-year at this point but hey, I can reuse the questions, right? *finger guns*
The Happy Videos Tag // tagged by Holly
I'm literally just using this tag as an excuse to throw all my favorite funny videos at you even though it's not book related.
(Also, you can find the rules on the posts that the people who tagged me had!)
THE MID YEAR BOOK FREAK OUT TAG
best book so far in 2017?
I DON'T KNOW AND I CANNOT CHOOSE.
I'll just make a small list! (Because lists are great and also why are you making me choose between my children. It's like Sophie's Choice, except that I am a rebel and defying the choice part and PICKING ALL OF THEM.)
I've linked them all to Goodreads, as I always do. (I'm so tech-savvy I can't even.)
a new release you're planning to read?
Rebel Seoul! I'M SO FREAKING EXCITED TO READ IT.
(Except my library organization database doesn't have Rebel Seoul in its records and I CRY because I want to read it really badly.)
most anticipated release?
RENEGADES BY MARISSA MEYER.
Ahhhh the cover is honestly so beautiful and I CANNOT wait for November to come.
Me in September: Ahhhh I can't wait for November to come! WHY DOES IT HAVE TO BE SO LONG.
Me in November: WOW tHAT WAS QUICK why can't time just stop ok
a book that made you cry?
Well.. I almost NEVER physically cry*. I mean, I cry internally all the time but leaking actual water from my eyeballs? Nah.
But let's talk about books that SCARRED me. Equally as fun, yes?
…
…
…
Well, I actually can't think of any RECENT ONES. But here's a list of some that scarred me in the beginning of the year!
Whoa that list is short. Maybe I've grown to become tougher and immune to book sadness??
Or maybe I've just read not-as-sad books.
#WhoKnows
<small>*Over books. Crying not over books doesn't count, right? (My friend tells me that salt water tears are good for the face, which is why I cry a lot. Obviously not because of anything else.)
favorite review you've written?
*flashback to all of the reviews I marked "RTC" and never wrote*
Haha… yeah… there are so many to choose from…
I guess I'd choose my [blog] review of the Epic Crush of Genie Lo?
most beautiful book you own?
Hey an excuse to take bookish pics of my beautiful books!
Except my phone camera sucks.
And also I have no props.
So let's change the question to 'your prettiest bookstagram picture?'
Which is this:
LOOK AT THAT MY TINY BOOKSHELF IS RAINBOW. (And also the picture links to my bookstagram because if you have the chance to, why NOT.)
THE HAPPY VIDEOS TAG
GUYS BE READY FOR SOME VV FUNNY VIDeoS.
(I reallyyyy like comedy.)
So… this is an animation (I LOVE ANIMATION VIDEOS) and just… WATCH IT.
Basically EVERYONE LOVES KPOP and I don't *really* listen to it but… just freaking WATCH THIS VIDEO OK. (Also Ryan Higa is probably very very popular but… whatever man.)
Ahaha this is another animation video (by Domics) and I LOVE IT and also can relate I cry.
This is another video by the same youtuber (Domics) BUT I LOVE HIS VIDEOS SO Go WATCH THEM OKAY?
LIZA IS THE BEST PLEASE GO WATCH HER IMMEDIATELY.
I honestly don't even watch Tyler Oakley that much but WATCH THIS VideO IT'S FUNNY.
THIS IS SO FUNNy I love Lilly.
---
Okay, well… ALL OF THESE VIDEOS ARE FUNNY YOU MUST WATCH THEM ALL.

<big>What are YOUR Happy Videos? <small>Also I forgot to tag anyone but shhhhhhhhh. (And also that was not a question but shhhhhh.) <big>YOU should answer all these questions above. <small>(And I'm not saying that because I'm too lazy to write them out, pshhhh WHY WOULD YOU THINK THAT.)