Hi. I went viral on Twitter and that's the #1 thing that happened this month.
I mean, sure, I read some books that were fine, I guess. And I also received some really cool books.
BUT I WENT VIRAL ON TWITTER, GUYS. THIS IS MY MOST PROUD ACCOMPLISHMENT ON MY LIFE.
Also I only read like, 5 books last month and I need to read at least 25 books this month but hahahahahahah I'm perfectly fine.
Also I'm going on a hiatus too, but hahahaha I'm fineee.
BOOKS I READ
Sir Gawain and the Green Knight by Unknown|★★★☆☆
Look, this is a school book, but I need to up my reading count. And it was dreadfully boring anyways, so obviously the one suffering here is me. At least I should get some numbers out of it.
American Born Chinese by Gene Luen Yang|★★★☆☆
Look, this is also a school book but I 100% count this, because I probably would have read it anyways. I think I was planning to read this? Not sure. Also the author illustrated the graphic novels for Avatar: Aang so obviously… I had to. [review]
The November Girl by Lydia Kang|★★★★☆
Vaguely eerie. Also there's a mainly Korean cast soooooo obviously I was excited for this book? Umm it kind of disappointed me, though. It was more gritty contemporary than beautiful magical realism. [review]
Winner Take All by Laurie Devore|★★★★★
10/10, Laurie Devore has not failed me yet. I am honestly so happy about this. The cover is so pretty. [review]
A Taxonomy of Love by Rachael Allen|★★★★☆
Hahahaha I have so many complaints about this book, but it was cute and fluffy at the same time? [review]
PHYSICAL BOOK HAUL
I also got Wild Beauty and The November Girl, which are not pictured.
DIGITAL BOOK HAUL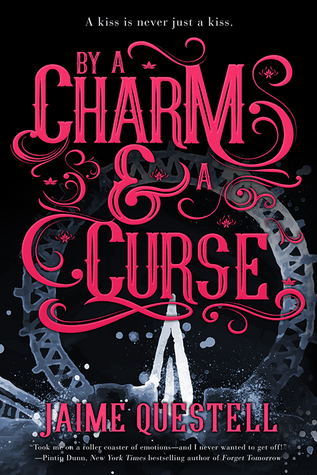 By a Charm and a Curse // Travelling circuses? Love? UM, SOUNDS CHEESY AND I'M 100% HERE FOR IT. (Also that pink font looks kind of garish but whatever.)
Children of Blood and Bone // DEAR #1 MOST ANTICIPATED BOOK IN 2018, HOW ARE YOU DOING. I already read a sampler of this and ughhhh I'm trying to pace myself and not get sucked in already.
OVERALL
Hahaha I only read five books this month but I need to read a ton of books in December. I have about 15 2018 ARCs that I need to read.
favorite book of the month?
Winner Take All, definitely. It wasn't one of my *all-time* favorite books, but it was really good. Also, I LOVE THE COLOR OF THE COVER BUT THAT TOTALLY DIDN'T AFFECT MY RATING.
least favorite book of the month?
If you count Sir Gawain and the Green Knight, one of my school books, then that one.
If you don't count it, then The November Girl. It just wasn't really suited for me.
Guys, I complained about having no ideas, but I GOT ALL THE IDEAS AND I'M HONESTLY SO EXCITED TO POST THEM AHHHHH.
But I've decided that I need to go on a hiatus temporarily. Maybe until the end of the month.
here's why
I need to study for my classes, and I think that the midterms are coming up in around a month (!!!) and hahahaha I NEED TO STUDY.
Ummm there's only a month left of this year and I need to read 24 books to finish my Goodreads reading challenge???
I feel like I've honestly been procrastinating too much on my blogging, and it will take a long time to catch up.
I need to do my Christmas shopping!!! Ahhhhh I'm not prepared gosh.
in conclusion
I will not be commenting on other people's posts. When I come back I'll probably be catching up.
I will post some reviews if I need to, but probably not that many. I won't post any discussion posts, I'm sorry!
I actually *do* have ideas for posts, so I may be writing posts when I'm gone. If I am in the mood. So when I  come back, I'll have posts and that "blogging spark."
Also, if you've been thinking about going on a hiatus, here are ten reasons why you should.
POPULAR POSTS
OTHER POSTS I LOVED
Marie talks about how to find books that you know you'll love and how to cut down on the number of books that you hate.
Balie teaches us how to stop procrastinating, and it's honestly very helpful. (Balie I downloaded the Forest app, please be proud of me.)
Jackie tells us the pros and cons of listening to audiobooks. And she's definitely a pro at audiobook-ing, especially since she's listened to at least THREE of them.
May discusses the concept of "good representation" and how it's seriously SO CONFUSING OKAY. Different experiences exist, yeah?
Lu lists things that you should never say to other bloggers.
Ilsa reviews Love, Hate, and Other Filters and it's an #ownvoices review so obviously everyone Go and Read It.
If you didn't know, November was the NaNoWriMo month.
I mean, if you're in the bookish community, you probably knew.
But if you didn't know… oh, my poor friend. NaNoWriMo is the month of Dying™ over your Novel™.
I mean, it was somewhat bearable, given the fact that I only wrote… around 3k words.
It was just like Camp Nano! What did I expect, honestly. I wrote a somewhat fine amount the first two or three days, and then the dreaded writing slump came.
*sighs*
Anyways, this section is really short because I'm already planning to make another Writing Update/NanoWrimo Update later (but there won't be much of anything because hahahahaha I didn't win.)
BOOKISH
Read 24 books this month. I need to read 24 books this month in order to hit my Goodreads reading challenge for this year. My goal was 125 books, and I've already read 101. I mean, this might not happen but if I'm really determined maybe??
Write at least 5 Goodreads reviews. Guys, I have so many books listed as "priority-review" or "needreview" and I really want to.
Read all of my January ARCs. I have a bunch and I need to read them all before release date omg.
BLOGGING
Write at least three posts. This month I want to write posts, but I don't necessarily need to publish them.
Relax. I mean I am on a hiatus so I don't really want to do anything.
WRITING
Write at least ten more pages of my rough draft. I didn't write anything during NaNoWriMo rip myself.
LIFE
Start studying better for class. I'm at that point where I don't really need to study for any of my classes except for biology yet, but I want to get into the habit of doing it because I know college will be so hard.
Generally be better at not procrastinating. I'd love to be someone who doesn't procrastinate but yet, here I am.
What happened to you guys this month? How many books did you read? What's your reading goal next month? Are you excited for any of the books I got?