You know that feeling when you're so enthralled with a book after it ends that you read the author's note just to grasp a little bit more of the story? That was me with this.
This was an utterly beautiful and twisted book.
The Belles features our main character, Camille, as a Belle who can manipulate the body and personality of others. And in our world, people are gray as a default; the Belles put skin color into others and shape their bodies.
It was a captivating, entrancing book with gorgeous, lyrical writing. The world of Orléans is a reflection of our own society and how the "ideal beauty" is so fleeting and artificial.
As said in the author's note: "I hope this book pushes us to talk about the commodification of women's body parts and the media messages we send young people about the value of their exterior selves, what is considered beautiful, and the forces causing those things to shift into disgusting shapes."
Thank you so much to the publisher for sending me a copy of this book via BookishFirst!
The links provided are affiliate links (the Book Depository link), meaning that if you purchased from them I would receive commission.
goodreads • book depository • indiebound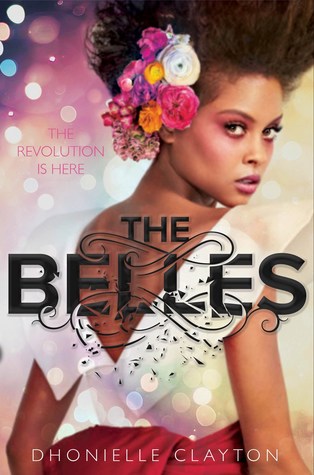 Camellia Beauregard is a Belle. In the opulent world of Orléans, Belles are revered, for they control Beauty, and Beauty is a commodity coveted above all else. In Orléans, the people are born gray, they are born damned, and only with the help of a Belle and her talents can they transform and be made beautiful.
But it's not enough for Camellia to be just a Belle. She wants to be the favorite—the Belle chosen by the Queen of Orléans to live in the royal palace and to be recognized as the most talented Belle in the land. But once Camellia and her Belle sisters arrive at court, it becomes clear that being the favorite is not everything she always dreamed it would be. Behind the gilded palace walls live dark secrets, and Camellia soon learns that the very essence of her existence is a lie—that her powers are far greater, and could be more dangerous, than she ever imagined.
★★★★☆
First, I want to mention trigger and content warnings for sexual assault, animal cruelty, torture, misgendering of a trans character, and use of the "bury your gays" trope.
This took a long time for me to pick up because of my decreased interest in it after it came to light that this book used the "bury your gays" trope and one of them was described in a gruesome manner.
But I picked it up, mainly because I had an obligation to the publisher and slightly because this was one of my most anticipated reads of the year.
And this book was amazing, although it was hurtful to see queer characters being murdered. (Seriously, how did that make it through publishing?)
The book starts off slow, giving strange and beautiful worldbuilding of Orléans— but as the setting moves to the palace it gives off an eerie and mysterious atmosphere.
"No one is a prisoner. Even you have the power to make your own choices."
All of the characters & relationships are very in-depth and three dimensional.
Camellia's relationship with her bodyguard is professional and playful. Ambrosia's sister-like relationship with Camellia is loving, but can also get twisted by competition. Our villain is twisted and conniving.
I also loved this gorgeous writing, and the worldbuilding and descriptions weren't slow and endless.
"Three women wheel out a thousand-layer crepe cake with massive strawberries the size of snow globes."
The skin color in this book is also extremely complicated, so it's really hard to name any specific ethnicities of characters besides the main character.
All of the characters (that aren't Belles) basically start off gray, and then color is infused into their skin by the Belles. So I'm not sure if this book has any definition of race/ethnicity within this world and how fluid it is!
However, it is confirmed that the main character is black (this book is #ownvoices!) and we love a poc model on the cover.
<span style="font-size: 16pt;">Have you read this book or do you plan to? How do you feel about mystery in fantasy? Do you like the cover of this book?