People: Shakespeare's writing is so good!!!
Me: literally Roshani Chokshi exists but ok
Seriously, um, who allowed Roshani Chokshi to write like this because somehow or some way she has clearly harnessed the power of the gods and gone beyond mortal boundaries. This is not okay. This should not be allowed.
This will be a bullet point review because honestly? I'm still too astonished by this book to mentally create a non-bullet point review.
God really pulled through this time and let me be a part of this book tour!! Thank you so, so freaking much to Wednesday Books for placing me on this book tour! I've been blessed. (also God, while you're still handing out favors, I'd like to please have lots of money.)
Please excuse my editing for the featured image! I have a digital review copy of the book soooo I just photoshopped the cover onto my picture of The Brilliant Death! yes, the colors don't match and I'm sad too. (Someday I'll figure out my featured images for my reviews of drc's.)
Also, some of the links provided are affiliate links meaning that if you purchased from them I would get a small sum of money. Buy from them and give me coin.
goodreads  /  book depository  /  indiebound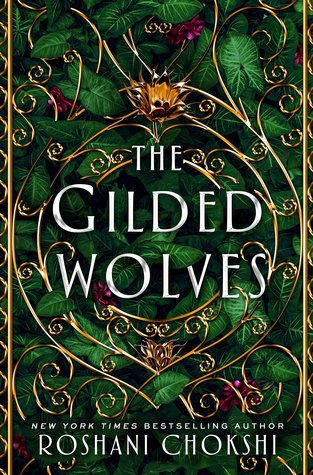 Set in a darkly glamorous world, The Gilded Wolves is full of mystery, decadence, and dangerous but thrilling adventure.
Paris, 1889: The world is on the cusp of industry and power, and the Exposition Universelle has breathed new life into the streets and dredged up ancient secrets. In this city, no one keeps tabs on secrets better than treasure-hunter and wealthy hotelier, Séverin Montagnet-Alarie. But when the all-powerful society, the Order of Babel, seeks him out for help, Séverin is offered a treasure that he never imagined: his true inheritance.
To find the ancient artifact the Order seeks, Séverin will need help from a band of experts: An engineer with a debt to pay. A historian who can't yet go home. A dancer with a sinister past. And a brother in all but blood, who might care too much.
Together, they'll have to use their wits and knowledge to hunt the artifact through the dark and glittering heart of Paris. What they find might change the world, but only if they can stay alive.
★★★★★
Trigger warnings for colonialism, racism, stillbirth, death of a loved one, mental torture, almost-dismemberment, graphic depictions of blood, cultural erasure, parental neglect, and mention of suicide.
I'm still kind of shrieking at the ending but like,, I'm totally fine. Like 100%. Completely. Yeah.
Anyways. Basically, there are four different Houses, (Nyx, Vanth, and two others which I have forgotten) as well as the Order of Babel.
Séverin is a half-Algerian, half-French bastard who's rightfully the heir to the House of Vanth, but his position was denied and covered up. He's been taking on skilled people and having them swear oaths to him– but he's not taking advantage of them in a particular cruel way. Him and his crew are bonded as equals.
Laila is an Indian girl who has a uniqueness in her past and has the ability to read the history of any non-Forged object that she touches. She's eloquent, endearing, charming, fashionable, mysterious, and just lovely. I loved her so much ugh. She's also an amazing baker.
Zofia is Jewish, Polish, on the autism spectrum (and I think she may be on the OCD spectrum as well) and she honestly was just… one of my favorite characters! She takes solace in the reliability and dependability of numbers, and honestly so smart omg what a little genius. She has an affinity for fire and is so. freaking. badass. Like. She's nicknamed the "Phoenix" for a good reason; she'll strike a match on her teeth. She eventually opens up to other people (mainly Laila and Enrique) when she realizes that they won't tease her for the way she is.
Hypnos is half Haitian, half French, and mga individual who's glamorous and a show-off, but honestly he just freaking wants some friends. He's not part of the original crew, and joins them later, and they're all like "no" and he's like "yes" and eventually, he just gets what he wants and becomes friends with them
Enrique is a white-passing half-Spanish, half-Filipino boy who's simultaneously a historian and someone whose peoples have been colonized. a ton. He wants to be a part of this exclusive group of historians who reject him, and he partially wonders whether it's because he's not smart enough or whether he's too white-passing to officially be part of their inner circle.
(This isn't even… bullet points so far but. anyways.) I highly recommend you guys checking out my fav Melanie's review because a. she's precious and b. she's precious.  Also, she's specifically ownvoices for Enrique being half-Filipino, and I'm so so so so so so happy that she related so hard to his character!
This tackles colonialism and in this story, the Order of Babel have colonized so many different lands and taken away their artifacts and culture, which is totally, totally portrayed as wrong. (So many of my recent reviews have been about books that talk about colonialism. Wow.)
Also, instead of being as intense as I believed it would be, it was just so much more fun than I imagined! Oh my god, I was reminded of how beautiful Roshani Chokshi's writing is, and I could go on for days about her metaphors and usage of literature. Oh my god.
Honestly, I didn't enjoy Roshani's debut, The Star-Touched Queen, because… it didn't really have much of a plot to it, to be honest? I mean, that was my opinion way back when, so I may like it now if I happened to reread it, but I'm so!! Happy!! That!! I loved one of her novels!! I really, really want to read her novel A Crown of Wishes now.
SERIOUSLY THIS WAS SO FUN THOUGH. It was maybe 20% action and 70% just freaking banter. The banter. I loved the banter.
And the group dynamics between these characters? It was so, so amazing! All of these characters have had broken pasts, and haven't been accepted, and they just find comfort in each other. FOUND FAMILY, ANYONE?
Séverin, specifically, wants everyone to stay with him and believes that once the Big Heist is over, everyone will leave him. Which is honestly so upsetting imagine the heartbreak he had to have faced in order to feel that way.
(The twist at the end though. No one will see it. You won't. Or maybe you will. I saw like, 50% of it coming.)
I need the sequel ASAP!!! Please, Roshani, bless us with more of your beautiful writing.
This also has two ships in it!! One of them is m/m, and the other is m/f, and I LOVE THE BOTH OF THEM so much. I'm way too excited to see where the sequel is going to take us!
The setting was absolutely gorgeous, and Roshani painted such an exquisite picture of a steampunk-esque fantasy, glittery world. I just (sighs forever) loved it.
OH. THE ONE WEIRD THING ABOUT THIS WAS THE CLOVES. SERIOUSLY, WHY THE CLOVES? Séverin just keeps freaking popping cloves into his mouth at random times. He keeps a jar of them in his breast pocket. Seriously, why, Séverin, why. Cloves are an amazing spice, but biting into one is like??? unleashing hell?? (sincerely me, someone who's had way too many bad experiences with cloves in my mom's cooking)
This wasn't the… best review in terms of quality, but it was a fun review. Kind of. I'll be writing a review on goodreads, too!
(I totally get how this book is compared to Six of Crows they're very, very similar in terms of friendship dynamics!)
(Also! Shoutout to Shealea who will be posting her review of this book in around seven to eight hours!!! I'll link to it when it goes live!! She also posts the most amazing discussions!!!!)
how excited are you for this book? do you love "found family" in young adult? do you think you'll enjoy the setting of historic Paris? do you like treasure hunts? have you read any of Roshani Chokshi's novels?