Remember when I promised to start posting regularly?
Yes, that will be postponed thank you until FEBRUARY (which is tomorrow haha) so. Sorry?
Anyways, I'm bringing you some mini-reviews of two slightly disappointing reads oops. Down and Across was actually pretty good! It was just kind of disappointing and Before I Let Go was just… mediocre.
This is my second mini reviews post as of forever so hey!! Milestone!! I guess!!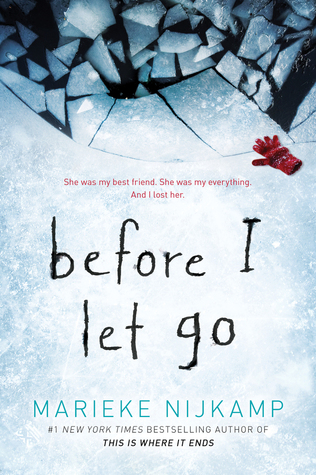 Best friends Corey and Kyra were inseparable in their snow-covered town of Lost Creek, Alaska. When Corey moves away, she makes Kyra promise to stay strong during the long, dark winter, and wait for her return.
Just days before Corey is to return home to visit, Kyra dies. Corey is devastated―and confused. The entire Lost community speaks in hushed tones about the town's lost daughter, saying her death was meant to be. And they push Corey away like she's a stranger.
Corey knows something is wrong. With every hour, her suspicion grows. Lost is keeping secrets―chilling secrets. But piecing together the truth about what happened to her best friend may prove as difficult as lighting the sky in an Alaskan winter…
★★★☆☆
This book was honestly so mediocre that I don't have much to say about it.
(Also here's a review by Elise that completely sums up my thoughts!)
I've actually read Marieke's other book, This is Where It Ends, and I didn't really like that one either??? WHY DO I MAKE THESE BAD CHOICES. This book just sounded really… good? SMALL-TOWN VIBES Y'ALL.
During this book our main character, Corey (whoa I almost forgot her name for a second there but I did forget her name several times while READING THE BOOK) kind of experiences weird ghost and paranomal-like experiences?? And this was so confusing, because they hardly get explained??
For instance, during this book there's a time where Corey hears Kyra's voice coming from a door and it kind of leads her… to a clue? AND LIKE WHAT I WAS HALF CONFUSED BECAUSE IS THIS A GHOST STORY? I THINK NOT. This doesn't get explained!! How come this happens!!
THE ASEXUAL REPRESENTATION
Okay. I am not asexual, so I really cannot speak for the asexual representation itself, but this is also touched in Elise's review (and I trust her a lot) and basically, Corey is asexual. Kyra likes her, but Corey rejects Kyra's want for a relationship.
But asexuality isn't about relationships? It's about sexual attraction, while aromanticism is about romantic relationships. 
I'm not sure if this is changed in the final copy or not (since I'm reading the proof version) but it is definitely a problematic aspect.
I really don't have many other comments to make about this book besides the fact that it was pretty cliche. I don't hate this book, but I don't recommend it either.
 Scott Ferdowsi has a track record of quitting. Writing the Great American Novel? Three chapters. His summer internship? One week. His best friends know exactly what they want to do with the rest of their lives, but Scott can hardly commit to a breakfast cereal, let alone a passion.
With college applications looming, Scott's parents pressure him to get serious and settle on a career path like engineering or medicine. Desperate for help, he sneaks off to Washington, DC, to seek guidance from a famous professor who specializes in grit, the psychology of success.
He never expects an adventure to unfold out of what was supposed to be a one-day visit. But that's what Scott gets when he meets Fiora Buchanan, a ballsy college student whose life ambition is to write crossword puzzles. When the bicycle she lends him gets Scott into a high-speed chase, he knows he's in for the ride of his life. Soon, Scott finds himself sneaking into bars, attempting to pick up girls at the National Zoo, and even giving the crossword thing a try–all while opening his eyes to fundamental truths about who he is and who he wants to be.
★★★★☆
This definitely wasn't AS DISAPPOINTING as Before I Let Go, but I was expecting a lot more from this book. For one, Adam Silvera blurbed it. DO YOU KNOW HOW MUCH TRUST I HAVE IN ADAM SILVERA? Because it is a lot, even though I have read exactly one (1) of his books. But it was good!! And I trust him.
Anyways, I want to point out that the main character is a Muslim and also an Iranian American! This is an #ownvoices novel, and I still think that it's an incredibly important book.
I could really relate to the main character!
The main character, Saaket (Scott) has a ton of pressure from his parent (specifically his dad) and when I say a ton of pressure, I mean a lot hecking lot of pressure.
And I also face pressure from my parents?? SO?? RELATABLE?? The beginning of the novel starts with a scene where his father is basically lecturing him, and I was just like "same same same" the entire time. His father talks about how Saaket needs to improve himself and all the ways that he has to prepare for his future, and he even sends Saaket a ton of articles about successful students!
I feel like there are so many books I read where the main character has really low-key and chill parents who just don't care but we need more books with those parents who care about everything. And also protagonists who aren't perfect at everything.
Needless to say, I really like this book even solely because of the portrayal of the parents!
Fiora is basically a manic pixie dream girl during the first half of the book.
It's not slightly insta-love-y but I'm not sure if I'm just complaining too much about it. There's definitely instant attraction from Saaket towards Fiora, but one of the chapters during the beginning literally ended with "I hope I don't fall in love with her."
I mean, it's possible that Saaket just falls in love really easily?? BUT THIS KIND OF BOTHERED ME.
As well as Fiora's character. She basically was dating her teacher and stole his bike, and disappears. Apparently, according to Trent (Fiora's childhood friend), that's the "Fiora way." DOES THIS SOUND ANY MORE MANIC PIXIE DREAM GIRL.
There's another instance where Saaket literally points this out, and he's like "you're like a caricature of a person" and then Fiora gets really mad like "I'M NOT A CARICATURE" but just because you say you're not a caricature doesn't mean?? you're not?? a caricature??? THIS BOOK IS TRYING TO EXCUSE ITSELF.
(But that was basically the only bad thing about this book! I really liked the other parts!)
Also! A big thanks to Emma for sending me both of these books.
Have you read either of these books? Don't you hate it when a book is disappointing? Do you want to rant about your disappointing reads (because you should)?